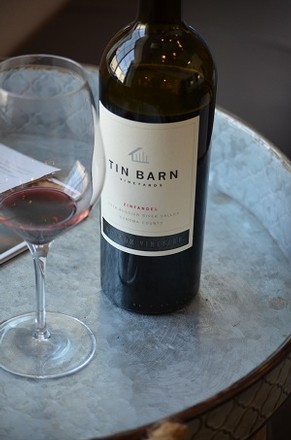 Tin Barn

Vineyards Zinfandel

Our Zinfandels are sourced from two areas in Sonoma County: Sonoma Valley and Russian River Valley. While our Russian River Valley Zinfandel provides a fruit forward, medium-bodied experience with more balanced tannins and a velvety mouthfeel with a long, seductive finish, our Los Chamizal Vineyard Zinfandel has a deeper berry fruit quality with more tannic structure on the finish. Each of our single-vineyard Zinfandels reflects the distinct qualities of its terroir. In an effort to retain the characteristics of these two unique vineyards, the wines are hand-crafted with minimal intervention. The result: two exceptional Zinfandels.
Gilsson Vineyard Zinfandel — Russian River Valley
Vineyard characteristics. Wine description. Pairings.
Los Chamizal Vineyard Zinfandel — Sonoma Valley
Sprawled across the rocky mountainside terraces of the Mayacamas Mountains is Los Chamizal Vineyard in the Sonoma Valley. The complex soils here range from volcanic ash to igneous rock, and the significant sun exposure in the area creates an ideal setting for growing classic zinfandel. The result is a delectable full-bodied Zinfandel displaying cranberry fruit aromas with hints of candied violets amid a finely balanced tannin structure. Ideal for pairing with sharp cheeses, as well as burgers, grilled sausages and pork.