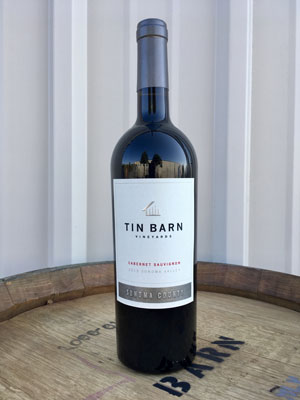 Tin Barn

Vineyards Cabernet Sauvignon

From grape to glass, our Cabernet Sauvignons are handled with uncommon care and attention, resulting in elegant wines reflecting the authentic character of Sonoma Valley. Our cabernets are oft described as exhibiting striking, complex flavors with noticeably soft tannin structures.

These delectable Cabernet Sauvignons are typically aged 22 months in 30% new French oak barrels, resulting in increased complexity and silky-smooth tannins. Tin Barn Vineyards Cabernet Sauvignons are ideal for evening sipping on their own or paired with a hearty filet mignon and roasted vegetables.
Pickberry Vineyard Reserve Cabernet Sauvignon - Sonoma Valley
Produced periodically (when mother nature rewards us with an exceptional vintage), our Reserve Cabernet Sauvignon is a carefeul selection of the finest barrels of wine from grapes sourced from Pickberry Vineyard, occupying 30 rolling acres on the temperate northeast slope of the Sonoma Mountain. Planted in rich volcanic soil in the 1980s, the vines soak up the cool nights and mild days.
Smooth, Unpretentious Sipping Experience
No matter the vintage, Tin Barn Vineyard's Cabernet Sauvignon is an elegant choice. Enriched by the gentle Sonoma Valley climate, these uncommon wines are ideal for sipping and sharing. When you experience Tin Barn Vineyard's unique boutique Cabernet Sauvignons, you'll experience the authentic character of Sonoma Valley, and the inimitable quality of handcrafted wine.