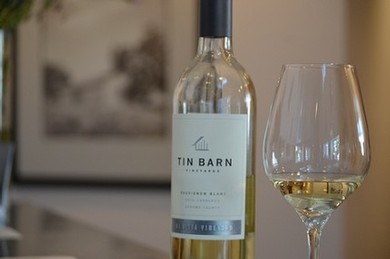 Tin Barn

Vineyards Sauvignon Blanc

For a crisp, refreshing tasting experience, we recommend our Sauvignon Blanc, featuring grapes sourced from Hi Vista Vineyard in Carneros. The cooler climate of the Hi Vista vineyard produces a crisp acidity with aromas of citrus and melon and a rich mouthfeel. Pair this crisp white with shrimp scampi or rosemary chicken.
2016 Hi Vista Sauvignon Blanc Carneros
The 2016 vintage shares many characteristics with that of the previous year, with the introduction of a new fermentation method. As with the previous vintage, our 2016 Sauvignon Blanc was primarily fermented in stainless steel to preserve the vibrant, fruity flavors that speak to the cool Carneros region. Like the 2015 vintage, the a portion of 2016 Sauvignon Blanc was fermented in nuetral oak, and resting on the lees for a few weeks before reunited with stainless steel fermented wine. Another portion was fermented in an egg shaped concrete tank. None of the wine undergoes malolactic fermentation. The combination of ancient and modern winemaking techniques Without the oaky impact of barrel fermentation, retains more of the unique varietal characteristics of the grapes and showcases the single vineyard traits of High Vista's Carneros terroir.
2017 Hi Vista Sauvignon Blanc Carneros
Our most recent vintage, the 2017 Sauvignon Blanc shares the fermentation method of the previous year, with a combination of fermentation in stainless steel, nuetral French oak, and concrete tank. The result is a wine with an uncommon balance and sophistication: tropical, fruity aromas with a crisp and refreshing acidity and a rich, unique mouthfeel.
A Crisp and Refreshing Conversation Starter
A boutique Sauvignon Blanc that truly reflects the character of Carneros, our Tin Barn Vineyard Sauvignon Blanc is a fruity and refreshing wine meant to be shared amongst friends. Enjoy with a light cheese plate, salads, or your favorite fish.