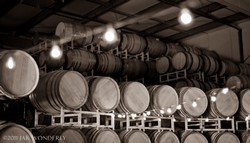 Barn Burner 2016
Barn Burner Party
October 29th | 4 p.m. - 6 p.m.
Each year, our Barn Burner party invites Corrugated Club members to celebrate the bounty of harvest and learn more about the winemaking process. This year's exclusive event will debut our new Cabernet Sauvignon amid the easygoing elegance of cocktail hour. Join us in our bustling cellar to:
Engage in winemaking demonstrations and discussions with Michael Lancaster.
Enjoy fine hors d'oeuvres from a local caterer.
Spy on bubbling batches of fermenting wines.
Be serenaded by local musicans.
Pick up your latest wine club shipment.
---
Product Reviews