Our Vineyards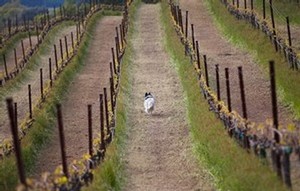 Great wine starts with quality, well-tended grapes. Tin Barn Vineyards works to find dedicated growers working somewhat off the beaten path. Careful tending, often amid unusual climate and terrain, yields remarkably fine winegrapes.
We have forged long term relationships with our growers to ensure the consistency and quality of our grape supplies. All our sources provide relatively small quantities of grapes such that our production from any one vineyard will be less than 1000 cases annually.
Coryelle Fields Vineyard
This remote plot of Syrah vines lies in the sweeping coastal hills above Jenner, just off Tin Barn Road. In 1999, Carolyn Coryelle, a wine industry veteran who also holds a degree in viticulture, planted six acres at an elevation of 1000 feet. Shortly thereafter, winemaker Michael Lancaster sought the Syrah from her hillside block, where the grapes are in the direct path of strong coastal breezes. He also named his new winery after the nearby Tin Barn Road. Mike has sourced Syrah from Carolyn's vineyard ever since, and in 2012 debuted a Rose of Syrah from Coryelle Fields.
This Syrah ripens slowly amid persistent Pacific fog, yielding a true Northern Rhone character with a distinctive earthy quality and hints of smoky bacon.
Hi vista Vineyard
For the past 35 years, Dan Hountalas and his wife Mary have divided their time between city and country, working to oversee both the historic Cliff House Restaurant in San Francisco and the beautiful Sonoma Carneros acreage known as Hi Vista Vineyard. The vineyard is managed by Ned Hill, whose family also manages the Durrell and Parmelee-Hill Vineyards in the Carneros appellation. Hi Vista's location provides for a cool growing season, producing grapes with lovely fresh citrus and melon aromas.

Ricci Vineyard
More Pinot Noir is grown in the Carneros appellation than any varietal anywhere in the world. With winemaking facilities based in Carneros, Tin Barn Vineyards is naturally inclined to make Pinot Noir. Ricci Vineyard is a family estate located just a few miles from the winery off Ramal Road, sprawled across 200 acres in a sloping valley. The fruit benefits from gentle breezes from the San Pablo Bay as well as steady Sonoma County sunshine. Little has changed here since the early 1900s, when its first farming began.
Gilsson Vineyard
For more than a decade, we have sourced our award winning, bestselling Russian River Zinfandel from Gilsson Vineyard (formerly Jensen Lane Vineyard). Located east of the town of Windsor in Sonoma County, the Zinfandel vines were planted nearly 40 years ago in a flat sandy plot and have been head trained and cane pruned. With the vines raised up the stakes, the fruiting area is elevated off the ground, allowing for better air circulation and more even ripening of the berries.
los chamizal vineyard
Los Chamizal Vineyard is a 42-acre plot of sustainably planted Zinfandel amid mountain terroir. Maintained by renowned cavalier winegrower Peter Haywood, the vineyard reflects varied microclimates--from sandy clay loams at lower elevations to fractured basalt at upper elevations. Tin Barn takes fruit from multiple blocks of this scenic location.