Business Partners
Tin Barn Vineyards is the fruit of five friends' passion for the grape. Initially launched by Mike, Gray, and Carl in 2000, the partnership soon grew to include Bud and Kurt. Since, we've continued to celebrate the idea that fine wine is meant to be shared in fellowship.
gray fowler
Gray Fowler built a long career working in finance for North American investment houses before venturing out as founding partner at Mountain Fowler Asset Management. A fellow native of Toronto, Gray and winemaker Michael Lancaster have been close friends since their high school days. Gray was influenced early on by the Lancaster family's love of food and wine.
In the late 1980s, Gray was working in London and met Carl Stewart. They soon discovered their mutual love of wine, and, in 1997, Gray introduced Carl to Mike. After many visits to California, the three decided to launch Tin Barn Vineyards. Gray now lives in Ontario with his wife, Rachel; and their two children, Ellen and Jack.

carl stewart
Carl Stewart has had a successful career in finance that includes working for international investment houses. He first recognized his passion for wine during his time at Harvard University. As a student, he visited wine shops and participated in wine appreciation seminars sponsored by Windows on the World restaurant in New York City. He also took wine production and chemistry coursework at U.C. Davis. While earning formal degrees from both Harvard and the London School of Economics, Carl knew that wine had become an important part of his life. Born in Jamaica and raised in Boston, Carl now makes his home in London, frequently traveling in search of the ideal food pairings for Tin Barn wines.
Kurt Chapman
When Kurt Chapman met Carl Stewart during his freshman year at Harvard, he never imagined that they would collaborate in a winery 25 years later. Kurt first developed a passion for wine in the early 90s, while he was working at a French oil company and was exposed to many of the great wine regions of Europe. Following his initial introduction to the grape, Kurt has continued to study and enjoy wines of both the Old and New Worlds. Born in Northern California and raised in Chicago, Kurt now resides in Switzerland, continuing to work in the oil business to finance his wine habit.
bud johnson
Bud Johnson has worked in property management since 1988. Employed in the hospitality industry for eight of those years, he has learned to thoroughly appreciate the finer things in life. Bud is an avid world traveler and recreational pilot who also enjoys flying, skiing, golf. He parlayed his love of good food and wine into a business venture in 2005, when he became a partner in Tin Barn Vineyards. Bud is married to his high school sweetheart, Laurie Simpson, and together they live in Ontario with their children, Sarah and Jeffrey.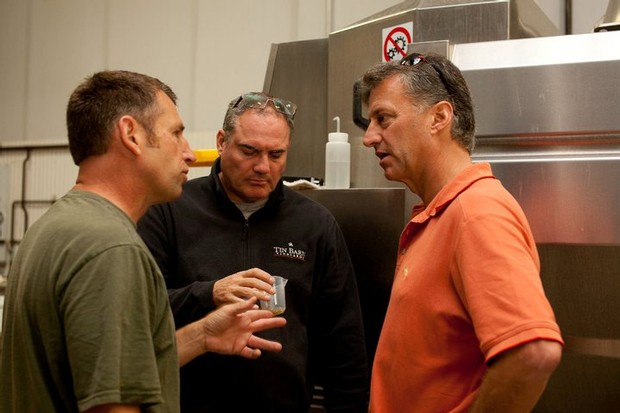 Business partners Michael, Gray, and Bud sample Sauvignon Blanc from the tank.