Our Team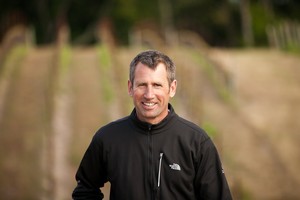 Michael Lancaster
Winemaker/co-owner
When Michael Lancaster fled the corporate world, he did so on two wheels, pedaling through some of the world's most fabled wine regions. Returning to his native Toronto a year later, he knew he'd never wear a suit and tie again.
Michael headed to Northern California to attend the renowned University of California at Davis enology program. After working for Gloria Ferrer Champagne Caves, he moved to Quail Ridge Cellars, where he was eventually promoted to winemaker.
In 2000, Michael formed a partnership with friends and launched Tin Barn Vineyards. Much like the "real" Tin Barn Road where he discovered the winery's first fruit source, the path has been steep and the views, incomparable.

mike at tinbarnvineyards dot com

RANDALL FELDMAN, cellar assistant
Randall has worked harvests in some of the world's greatest wine regions. After gaining experience in New Zealand, Western Australia, South Africa, and France, he brought his skills back to Sonoma, where he's quickly become indispensable to our cellar operations.
With a degree in horticulture from Colorado State University, Rande notes that his educational focus in food crop science and viticulture have come in handy for brewing his own beer, and strolling through the vineyards with his dog, Luna.
John Hamel, cellar assistant
John Hamel first came to Tin Barn Vineyards as a custom crush client when his family winery, Hamel Family Wines, needed a production facility. With an interest in Slow Food, John had not only labored on organic farms, but had taken a monthlong agricultural walkabout. He'd also worked in Napa in winery public relations--a desk job that only sealed his desire to work with wine and grapes firsthand. When the 2011 harvest season rolled around, he donned his rubber boots and joined the Tin Barn cellar crew.

An honors graduate from University of Wisconsin-Madison, John always knows the score of the latest Badgers game. He continues to pursue coursework in enology at UC Davis.
Bob Royce, Director of distribution & sales
With more than 30 years of experience in the wine industry, Bob Royce knows his stuff. He has worked nearly every aspect of winery operation including general management, direct to consumer sales, and branding. Bob has served a number of prominent wineries in the Sonoma and Napa Valleys including Chateau Montelena, Clos Du Val , Lambert Bridge, and Cain Vineyard and Winery.

At Tin Barn Vineyards, Bob manages national distribution, meaning he makes sure you find our wines on your local store shelves and wine lists.
bob at tinbarnvineyards dot com
amy Tsaykel, Director of Communications & Special Projects

Drawing on a decade of experience in book publishing and the arts, Amy Tsaykel has true zeal for creative entrepreneurship. Since 2009, she has been using her communications acumen to share our wine.
Officially, Amy manages direct to consumer sales, but also supports nearly every aspect of winery operations. On a given day, she might be poring over label designs, sampling vineyards, poking around the cellar, or editing web copy while perched at her funny looking ergonomic desk chair.
amy at tinbarnvineyards dot com
Sarah Rappensperger, hospitality associate
A homegrown Sonoma County local with six years of experience in wine hospitality, Sarah joined our team after serving as a Peace Corps volunteer in Central America. How that fits with her wine country resume she can't really say, but she finds it leads to some great conversations.
Sarah's natural affinity for people extends well beyond our tasting room: she works with foster youth during the week, and regularly volunteers for community events and fundraisers. She's often seen in the company of her rescue dog, Cali, who endorses her as one of the nicest people on Earth.
sarah at tinbarnvineyards dot com
Meghan Greenwood, WINE CLUB AMBASSADOR
With a heart as big as her native Texas, Meghan Greenwood always welcomes visitors with a smile--and usually a couple of good stories. Previous experience as a high school drama teacher gives her a certain flair that we find irresistible (and you will too). Her administrative background makes her about five times more organized than the rest of us. As a mother of two small children, she deeply understands your need for a glass of wine, and looks forward to filling your glass. Meghan has been with Tin Barn Vineyards since 2010.

meghan at tinbarnvineyards dot com