Our Team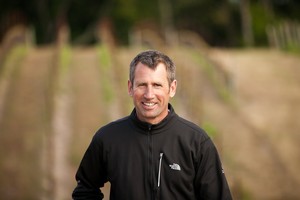 Michael Lancaster
Winemaker/co-owner
When Michael Lancaster fled the corporate world, he did so on two wheels, pedaling through some of the world's most fabled wine regions. Returning to his native Toronto a year later, he knew he'd never wear a suit and tie again.
Michael headed to Northern California to attend the renowned University of California at Davis enology program. After working for Gloria Ferrer Champagne Caves, he moved to Quail Ridge Cellars, where he was eventually promoted to winemaker.
In 2000, Michael formed a partnership with friends and launched Tin Barn Vineyards. Much like the "real" Tin Barn Road where he discovered the winery's first fruit source, the path has been steep and the views, incomparable.
[mike at tinbarnvineyards dot com]
AMY BESS COOK
DIRECTOR OF COMMUNiCATIONS & OPERATIONS
Drawing on a decade of experience in book publishing and the arts, Amy Bess has a true zeal for creative entrepreneurship. Since 2009, she has been using her business acumen to share our wine. With a focus in communications, she helps manage nearly every aspect of company operations. On a given day, she might be poring over label designs, sampling vineyards, editing copy, or stirring up our next winery party. With a longtime passion for writing, Amy Bess also writes about wine industry trends and Sonoma life for various publications.
[amy at tinbarnvineyards dot com]

CAROLINA CORONA, WINERY AMBASSADOR
Carolina got her start in the wine business by supporting the enology team at Patz & Hall. There, she developed an affinity for Pinot Noir and a curiosity about winemaking. Since joining us at Tin Barn Vineyards in 2016, she's expanded her industry knowledge by working cross-departmentally. You'll find her hosting our tasting room on weekends, then working in the cellar or office on other days. Wherever she goes, you'll find a generous spirit and attentive hospitality.

[carolina at tinbarnvineyards dot com]

Justin Nevius, COMMUNICATIONS ASSISTANT
A native New Englander, Justin spent his formative years on Cape Cod where he developed a love for music, literature and writing. It wasn't until he was studying these subjects at the University of Massachusetts and working part-time at a liquor store that he discovered another passion: wine. This led him to New York City where he found a position at a prestigious Lower Manhattan wine shop. Working alongside some of the greatest minds in the wine world, he devoured wine books to learn about different wine regions, varietals, and styles of winemaking. He also sipped and savored some pretty exceptional wines.
Seeking new adventures and weary of the harsh New England winters, he set out for California. Settling here at Tin Barn Vineyards, Justin is thrilled to share his love of wine with you by assisting Amy Bess with winery communications, and by connecting with guests in the tasting room. He's especially excited to witness and share glimpses of the winemaking process.
[justin at tinbarnvineyards dot com]